Note: I published this post before COVID-19 shut every rock concert down. Obviously, everything here changed but could come back into play in 2021. We'll see.
2020 is turning out to be an incredible rock concert year. It may be the best year for concerts since the early '90s. Every rock concert you can think of is out there (with the exceptions of Van Halen and Ozzy Osbourne who have health issues). Rock music fans should be in our glory. So why do I think 2020 might kill rock music once and for all? Is it too much of a good thing?
There's a perfect storm brewing that could have a huge effect on the future of rock concerts.
Every Band is Touring
Like I said above, it seems like every band is touring this year. It kicked off with Motley Crue's reunion tour announcement that had die-hard fans on the edge of their seats. Not only a new tour but a stadium tour with Def Leppard, Poison and Joan Jett. Tickets went on sale and sold quickly (more on that shortly). Since then, there have been multiple tours announced every week:
Reunion Tours: Motley Crue, Poison, The Black Crowes, Rage Against the Machine
Farewell Tours: KISS, Elton John, Lynyrd Skynyrd, Rolling Stones (not billed as a farewell, but let's face it, they're likely not making it back to most of the cities on this tour again)
Vegas Residencies: Aerosmith (beyond highly recommended!), Scorpions with Queensryche
Festivals (A few featuring Metallica headlining two nights)
Cruises
Oh, and there are still tours to be announced (I'm looking at you, AC/DC!).
Higher Ticket Prices
I remember the first time I saw the Rolling Stones and Pink Floyd in concert in 1994. Tickets were in the $50 range for field seats, and that was expensive then. Not long after, The Eagles reunited and charged $80 per ticket! That one was too rich for my blood back then. Fast forward to 2019 when the average rock concert ticket price was $96.17. Think we might be capping out on pricing? Live Nation and Ticketmaster think that ticket prices are undervalued and an "incredible bargain" with fans willing to pay a lot more. We're seeing that philosophy turning into reality this year. So, how much are you willing to pay?
Shady Ticket Practices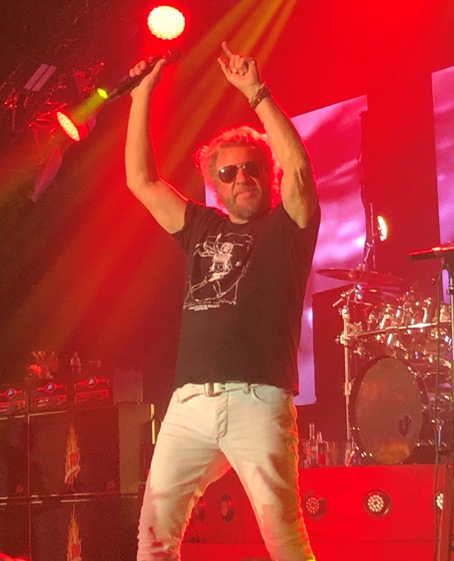 On top of everyone touring, most are teaming up for two, three or four band events. Great! Better value. We all win, right? Well, here's the catch. Most are playing venues above what they should be playing. Sorry, but other than the Rolling Stones, there shouldn't be any stadium tours. Motley Crue, Def Leppard and Poison would have had trouble selling out a stadium in the '80s. Yes, they've sold a lot of tickets, but have they? Again, more on that in a minute.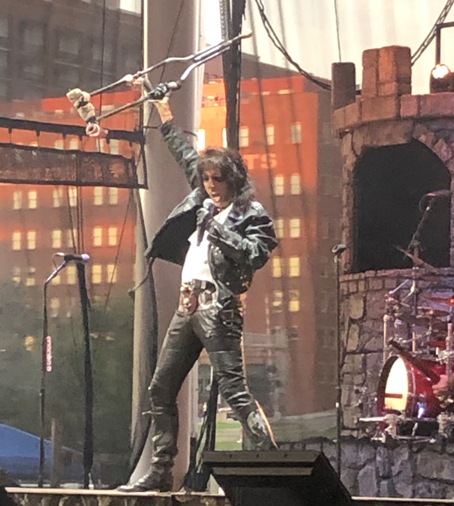 The Sammy Hagar/Whitesnake/Night Ranger and Alice Cooper/Tesla/Lita Ford shows are playing amphitheaters that none of them have played in probably 20 years. Why? Because they can offer lawn seats at good prices. Don't want to sit on the lawn? You can pay the overinflated pavilion seat prices. Tickets for the Alice Cooper concert are ~$45 higher than last summer's show at a smaller venue (comparable seats). Two tickets including the service fees and $50 paved parking (the lowest-priced paid parking; free parking is available, but the difference in time of getting out of the venue can be 2-3 hours) came out to $375. I couldn't justify that cost and walked away without buying them. I checked recently (about a month after they went on sale) and there are A LOT of pavilion seats available still.
StubHub and the Secondary Ticket Market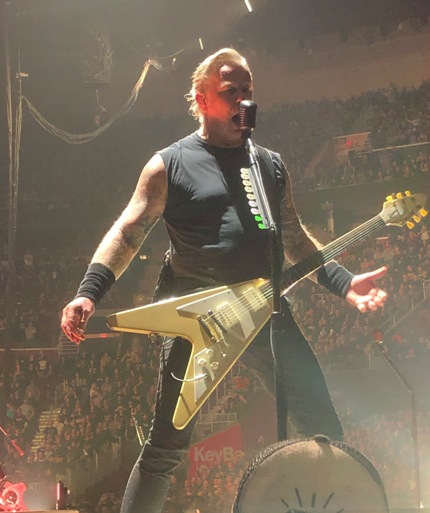 Remember when scalping tickets was illegal? Now it's big business. Resale sites like StubHub are selling tickets at ridiculous prices. Ticketmaster and artists are cashing in by transferring batches of tickets from public sale to StubHub…before you have a chance to buy them. Billboard published an article with proof from a recorded phone call in which Ticketmaster was taking thousands of Metallica tickets and putting them directly into StubHub resale (fraud anyone?). They justify it by saying that artists aren't able to get true market value for their tickets through regular ticket sales.
If you think this is an isolated case, take a look at almost any Ticketmaster rock concert and see how many tickets are available for resale. Below is a screenshot of Motley Crue tickets available for their Cleveland concert. See all the red dots? Those are resale tickets. So much for the great ticket sales… The good news is that when they don't sell, a lot of people may be able to get a really good deal on the day of the show (or so I'm hoping!).
New Ticket Price Variables
On top of raising ticket prices, Ticketmaster is following the pricing strategy of another fan-favorite industry…airline tickets. Many variables go into airline prices and Ticketmaster sees the opportunity to capitalize:
Platinum Tickets: What's more fun (read as shady) than overpriced tickets? Overpriced "Platinum Tickets" that fluctuate due to demand! According to Ticketmaster, this will detract scalpers from getting the best seats. They say they're taking 10% of the seats (the good seats) and adjusting the prices live based on demand. They believe they're standing up for the artists so that the money goes to them. Maybe, but the money's still coming from fans. And I'm sure Ticketmaster is getting a nice chunk of it too. See a seat for the $129 standard ticket price? Blink and now it's $249. Blink again and it's $479…and up and up.

I watched this while I was trying to get tickets to Sammy Hagar/Whitesnake/Night Ranger. Since, I couldn't figure out what the standard price was, I tweeted: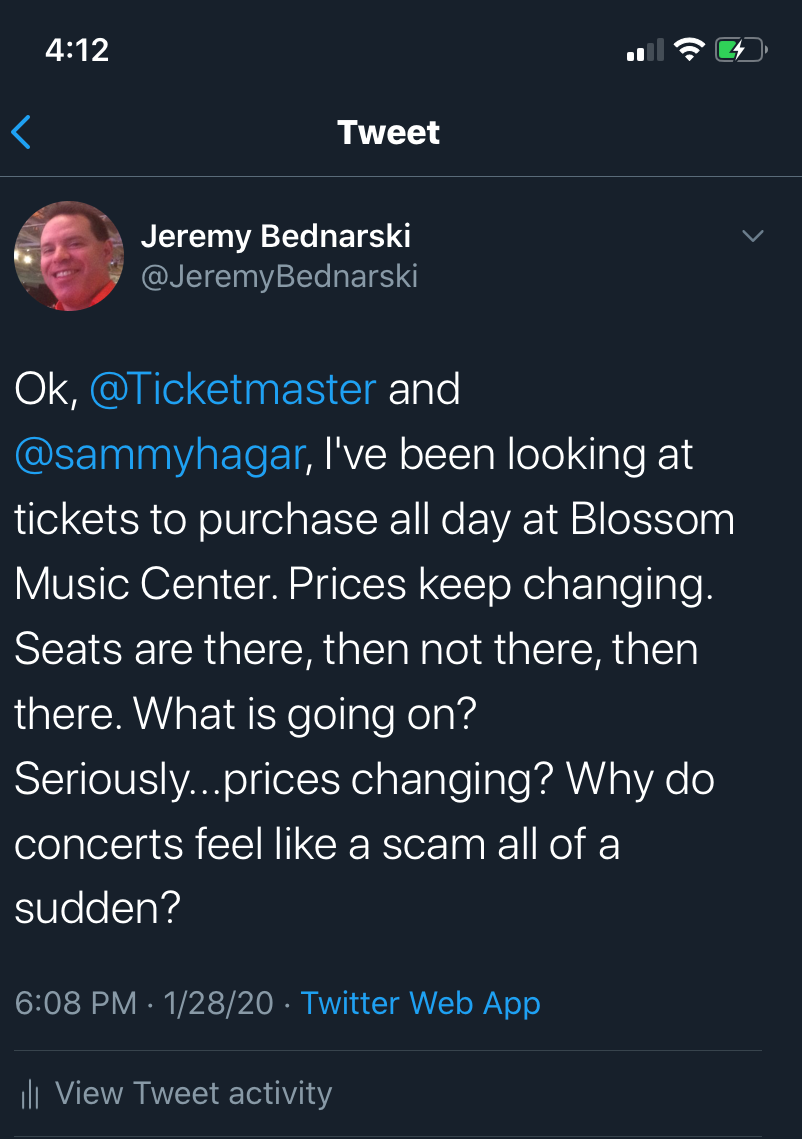 No reply (shocker…). Rage Against the Machine felt the rage of their fans due to this (pun intended!). They actually did something good(ish) given the circumstances. They are donating any amount paid over the standard ticket price to charity. But, it confused fans who just saw huge ticket prices. Tom Morello took to Twitter to answer fans' frustrations and explain the process. That went about as well as you would expect and Morello came off more annoyed than helpful.

The problem is that while we hate scalping, what we really hate is paying outrageous ticket prices. This program might keep some tickets away from scalpers. But if the fans have to pay the same inflated ticket price anyway, we lose. So, Ticketmaster and the bands may as well be scalping their own tickets.
Aisle Seats: Want to buy a ticket for an aisle seat? Like some flights, that will be an extra $10. Congrats, you get to pay extra to move every time someone else in the row wants to go to the bathroom or get another beer.
Day of the Concert: You know how you always wish that big show was on a Saturday instead of the middle of the week? Now you'll get to pay extra for that luxury (that you have no control over). Ticketmaster plans to fluctuate ticket prices based on the day of the concert.
Presales and VIP Packages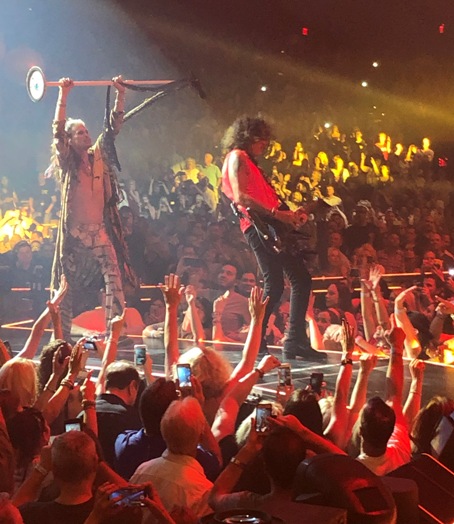 Ticketmaster pricing practices aren't the only things standing in your way. Remember when ticket presales helped the bands' biggest fans, usually fan club members? Now there are presales for fan clubs, credit cards, sponsors, radio stations, Live Nation, etc. Especially with package tours, there may be three or four fan clubs with presale tickets for one show. It's very easy to get a presale code. There are only so many "good" seats available with each presale. But as a whole, they're taking a bigger chunk of seats. So what's available when the regular tickets go on sale? Your guess is as good as mine. To be fair though, I've fared better in a lot of cases with general public ticket sales than presales (but not always).
What else is pulling away from the good seats? VIP packages. Pay a lot more and get a meet and greet with the band and guaranteed tickets in a certain section or row. The bands say they have to offer these packages to make money…and much of the money goes back into the tour. They don't make money from CD sales any more so this helps. I get that. If I had the extra cash lying around, I'd go VIP for one or two of my favorite bands. For those of you that do buy them, I hope the experience is worth it and the band members are cool (I know not all are).
Is It Live?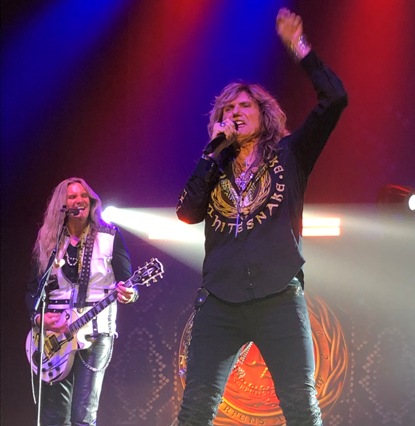 When you buy a ticket to see your favorite rock band in concert, what's the one expectation you have? That they're actually playing live, right? We know pop artists are playing to tracks and tend to lip-sync, but that's NOT ok in the rock world. And it shouldn't be. But, it's becoming a point of discussion more and more. There are bands we know are lip-syncing and/or playing to tracks. KISS is clearly lip-syncing on the End of the Road tour and Motley Crue has admitted to using backing tracks. For that reason, I skipped KISS's last appearance in Cleveland and won't be going to see Motley Crue's reunion tour. I can't justify paying hundreds of dollars to see a band not play. Yes, the spectacle might be fun, but I've seen both bands before back when they were playing (they were playing back then, right? Right?…RIGHT???)
It's a growing issue and Eddie Trunk brings it up almost daily on social media or his radio shows. Bands have even talked about other bands not playing live in concerts. The problem is that nobody will name names. I understand in Trunk's case as he relies on interviewing the bands to make a living. Start mentioning names and that could dry up for him fast. But, nobody will stop until they are specifically called out. As a fan who can't go to every concert I want to, I'd like to know who's actually performing and who's not. That will decide where my money goes.
The Future of Rock Concerts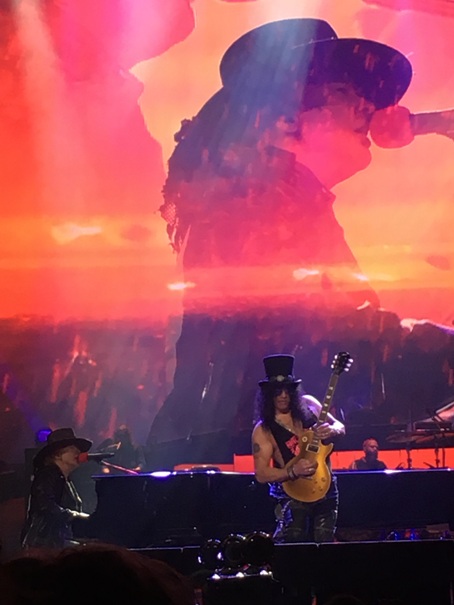 With so many concerts at such high prices, most of us won't be able to go to all. We'll make hard decisions and skip some shows we want to see. As a result, there will be concerts that will not sell enough tickets. Will promoters cancel shows if it doesn't sell well? Probably. Justin Bieber is likely to cancel Cleveland and Columbus stadium dates. They didn't even put the tickets on sale. I know…I laughed too when I heard. But, that might happen to any of the rock bands. In fact, Guns 'n' Roses are struggling to sell tickets in Toronto.
If tickets don't sell the secondary market will also struggle. Ok, this may not be a bad thing. It might even be good for fans to take advantage of LOWER ticket prices if sellers end up needing to unload them.
Concert promoters will chalk up cancelations or lack of ticket sales to the bands not being in demand or oversaturation of the rock concert market. They'll skirt any talk of overpriced tickets or booking bands in the wrong venues.
The long term effects are what I'm worried about. I believe the bands that don't sell this year are going to have a hard time getting support for their next tours. The result will be fewer rock bands on tour. This could have residual effects on newer bands and bands that aren't even on tour this year. Promoters may be less likely to take a chance on them. Promoters will focus on the artists (of any genre) that do sell. And if the concert circuit dries up, many of the bands won't be able to sustain themselves.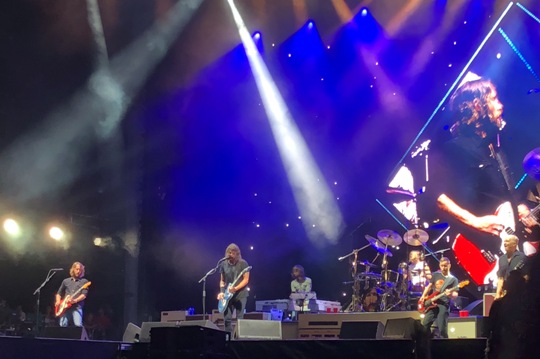 On the flip side, if the bands sell enough tickets to prove me wrong that would mean that Ticketmaster is right about people being willing to pay higher prices. And next year's tickets will be even more expensive. Maybe it'll just be the end of me going to most of the concerts…lol.
What's your take? Is there a rock concert "happily ever after" here that I'm not seeing? Is there a way we can all benefit? Tell me in the comments. Until then, enjoy the concerts you go to and rock on! Thanks for reading.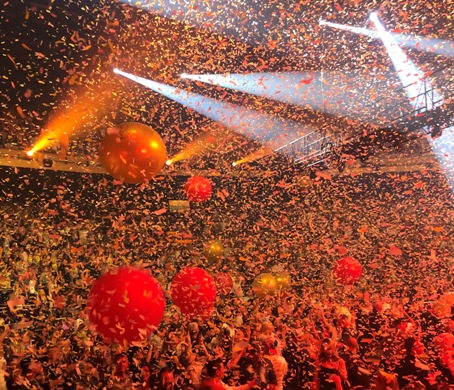 Motley Crue Photo (Copyright 2008) Courtesy of Rukes.com Photography by Drew Ressler Creative Commons 2.0