I must be in Bizarro World. First, the Rock Hall actually chooses inductees that I like (mostly) for 2016. Then, the Grammys had the Hollywood Vampires perform. In case you missed it, the Hollywood Vampires are Alice Cooper, Joe Perry, Johnny Depp, Duff McKagen and Matt Sorum. Not only perform but play a tribute to Lemmy Kilmister.
When I first heard it, I didn't believe it. I thought they meant they were playing the ceremony where they give out the awards that they don't show on TV. I was beyond excited when I found out it was the actual awards. They were going to be playing Ace of Spades as their tribute to Lemmy. Not only that, they were also playing one of their own songs, the new As Bad As I Am!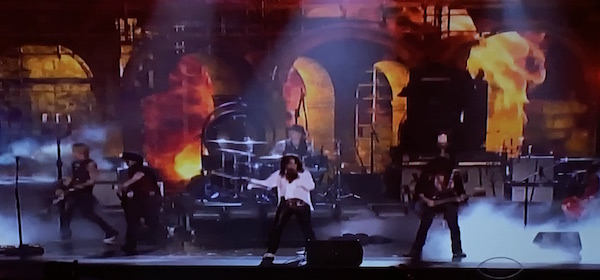 Why is this a big deal in the world of the Grammys? Well, it's no secret that the Grammy committee is more than a little clueless when it comes to hard rock and heavy metal. The obvious joke is Jethro Tull winning the metal Grammy over Metallica in 1988. It hasn't gotten any better with time. Nominating the hard rock and metal categories follows no rhyme or reason. They nominate live versions of older songs (Judas Priest) and cover songs from other artists (Motorhead covering Metallica). In 2015, they awarded the hard rock/heavy metal Grammy to Tenacious D for a COMEDY album!
Giving a tribute to Lemmy is a step in the right direction. Acknowledging his influence on rock music shows that somebody is paying attention. Does it make sense for Hollywood Vampires to perform the tribute? I say yes. I'm sure Johnny Depp being in the band was very attractive to the Grammys (ratings magnet). But, the point of the Hollywood Vampires is to honor the artists that Alice Cooper used to drink with and have passed away. Cooper himself said Lemmy is now part of that group.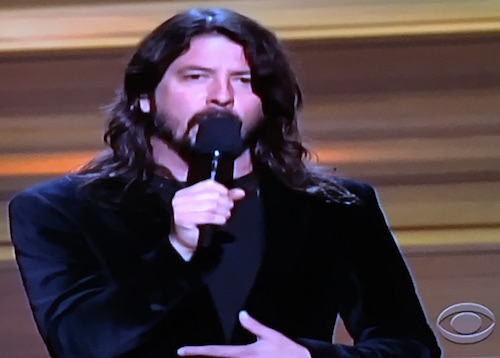 How about the performance itself? First, it was awesome to have Dave Grohl introduce the band and explain the influence Lemmy had on him. I'm not sure if most of the audience appreciated it, but it was a nice touch. I was hoping Grohl would play during Ace of Spades (he even appears on the Hollywood Vampires CD), but no such luck. It didn't matter though. Alice, Joe, Johnny, Duff and Matt tore the roof off. It was loud, heavy, fiery and so good. Like Lemmy would have wanted.
Some might complain that As Bad As I Am wasn't a great song. Or, that their version of Ace of Spades wasn't as good as other recent tributes. I won't argue with that as both were good, not great. But, the way they took the stage with their attitude and intensity was exciting in a way that I'm not sure the Grammys has ever seen.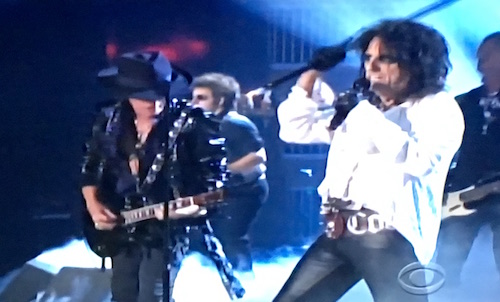 In an interview before the Grammys, they talked about a new band playing a new song at the Grammys. Cooper and Perry both explained (I'm paraphrasing) that you don't hit the stage asking the audience if they like it. You make the audience yours. They absolutely did that last night and it rocked!
What did you think of their performance? Thanks for reading and please share it with your friends.