I'm a huge Disney fan. I know. It's not the rock music stuff I like to write about, but I was into Mickey Mouse well before I learned how to rock out. As a kid, I believed in the Magical World of Disney. Now as an adult, I believe in the Magical Marketing of Disney.
Earlier this year, I made my third trip to a Disney Park. This was the first time I've been able to pay attention to the magical marketing. The first time I went I went to Disney World, I was five. And, I don't remember much of the trip.
In 2005, I went with my wife (then girlfriend) to Disneyland. She's a huge Disney fan. I proposed to her that night after the fireworks (She said "Yes!"). So, I was more concerned with figuring out what I was going to say (and not losing the ring pinned to the inside of my pocket).
This year's trip was to Disney World and was just for fun. I couldn't wait for the Disney experience without having anything else on my mind. I was as excited as Stewie on Family Guy when he went to Disney World.
The trip was incredible. We visited the Magic Kingdom, Hollywood Studios and Epcot in two days. We probably pushed it a little too much (we also spent a day at Universal Studios). Our feet were killing us for most of the trip, but it was worth it. Besides the fun, the trip was my own personal workshop on their magical marketing and outstanding customer experiences. Here are my five biggest takeaways.
MagicBands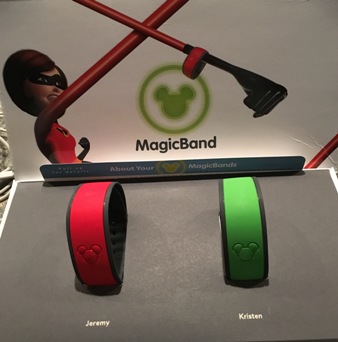 One of the challenges of a Disney trip is the crowds and getting to do everything you want to do. In fact, in the mid-2000s, guests indicated they were less likely to return because of these issues. Disney understood that was an issue. This led to the biggest overhaul to Disney Parks' infrastructure: MagicBands. This Wired article explains how they invented and implemented these bands.
In short, MagicBands work with the MyDisneyExperience app to enhance a visitor's experience. The bands do the following by touching them to a sensor:
Grant park entry.
Open your hotel room doors.
Buy souvenirs.
Make restaurant reservations, pre-order your food, and have it brought out to you.
Make FastPass+ reservations and grant access to the rides.
And more!
The MagicBands give Disney a ton of visitor data from what rides you go on to what you buy. They can use this data to better personalize your experience. The data can also influence the operations of the parks. For example, they can see when areas of the park get too crowded. This can trigger them to offer an attraction or character appearance elsewhere in the park to lure visitors away from the bottleneck. This allows visitors to do more by spending less time waiting in lines.
The bands also make it easier for visitors to spend more money. Less time in line offers the potential for more time spent in shops. And, making a purchase is as easy as touching your MagicBand to a sensor. No fumbling around in your wallet or purse to find cash or a credit card. The absence of this act makes it very easy to lose track of how much you're spending. A fact I'm sure the Disney execs know all too well!
If that's not enough, the MagicBands arrival at your house offers a major point of excitement. The bands come in a box lined up and labeled with each family member's name. And, of course, you can buy MagicBandits to decorate your MagicBand with your favorite Disney characters!
Disney Resorts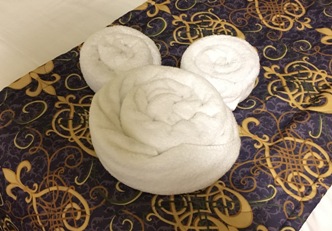 For our trip, we stayed at the Port Orleans Resort – French Quarter. We looked at non-Disney resorts, but this was reasonably priced and the benefits of staying on-site made up for any extra cost.
First, Disney resorts include free shuttles to take you to and from the airport. And, once you check your bags at your departing airport, they're taken to your hotel room. You don't have to pick them up at the airport.
With the MagicBands, you don't even have to check in to the hotel. They'll send you a text when your room is ready. We went to Disney Springs (formerly Downtown Disney) to hang out for the day. When we came back in the afternoon, we went right to our room and our bags were there.
There are also free shuttles and boats to take you to all the Disney parks, Disney Springs and other resorts. No cabs or Ubers…unless you go somewhere non-Disney as we did to Universal Studios. Even then, it was easy enough to get an Uber.
Another big feature of staying at a Disney resort is the Extra Magic Hours. Every day, one park opens an hour early or closes two hours later for resort guests only. Check out your favorite rides again or plan on hitting some of the more popular rides with a smaller crowd.
The Lines…Oh, the Lines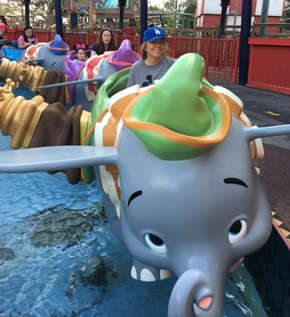 With FastPass+, you can avoid some of the lines for your favorite rides. You can't skip them all though. So, there are distractions to make the wait easier. Some of the rides incorporate videos that help to tell the story of the ride. Other rides, like the new Seven Dwarfs Mine Ride, have activities to keep kids occupied.
Granted, that's not exclusive to Disney parks, but they do it well. One feature that I've never seen anywhere else is the Dumbo the Flying Elephant pager system. Kids can play in their playground and parents get a pager that tells them when it's their turn to ride.
The Shops…Oh, the Shops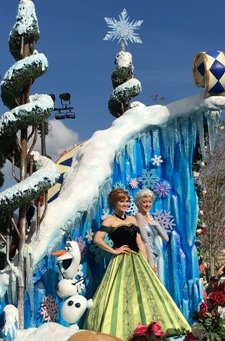 I don't know how long they've done this, so if this is old news, I apologize. But, most major rides exit into a shop themed around the ride. For parents hoping to take their kids into one store on the way out to get a souvenir, you're out of luck.
From a magical marketing and merchandising perspective, it's brilliant. I don't know how parents get out there without spending an extra fortune on toys. I saw kids' eyes light up as they entered the shops – especially the "Build-Your-Own-Lightsaber" section of the Star Wars shop or anything Frozen!
How does that relate to a great experience? Good question. With your MagicBands, you can have your purchases sent to your Disney resort room. You don't have to carry them all day. But, make sure to keep track of what you buy!
Interactive Games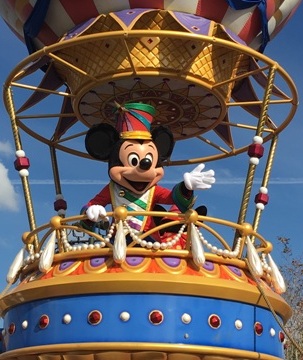 Disney offers ways to engage visitors as they explore the parks. The most famous way is by finding hidden Mickeys. There are images of Mickey Mouse incorporated into the design of Disney attractions throughout the parks. There are books and websites that offer clues and guides to find them. But, as the park changes and attractions move, some of the Mickeys move with them.
There are also interactive games including A Pirate's Adventure, Wilderness Explorers, Sorcerers of the Magic Kingdom and Agent P's World Showcase Adventure. We didn't do any of the games, but they sound interesting. Maps, cards and/or clues unlock the adventures through videos and interactive screens.
The Best for Last – The Characters!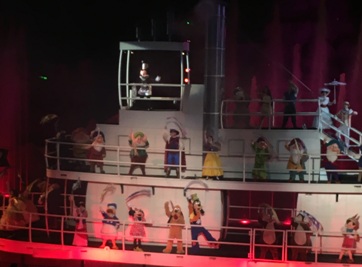 What would a Disney World trip be without all the Disney characters? There are many shows that feature Mickey, Minnie, Donald, Goofy and your favorites. There are also a bunch of scheduled meet-and-greet times throughout the parks. The parades are one of the best attractions and give you a chance to see a wide range of characters.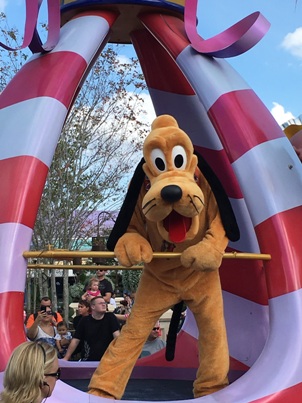 The one thing that I missed was the random encounters with the characters. As a kid, I remember running into Mickey, Chip and Dale, Goofy, Pluto and many more. I'm sure the scheduled times are a better (and safer) way to make sure more kids are able to see their favorites. But, it feels a little too organized which actually takes away some of the magic. Although, I'm sure if I was a kid, I wouldn't care as long as I got to meet Mickey Mouse somehow.
All the magical marketing points aside, I loved our two days at the Disney parks (and our one day at Universal Studios)! It was fun to be a kid again and take in all my favorites. Especially now to see Star Wars and the Muppets rides and shows…although the Muppet movie is a bit dated. And where is Animal! Disney doesn't have the rights to implement Marvel characters in their parks east of the Mississippi River. And it doesn't look like they'll get them anytime soon. Those are still held by Universal Studios. Regardless, this won't be the last trip to Disney!
Have you been to Disney World or Disneyland recently? Did you enjoy their magical marketing? Tell us in the comments below. Thanks for reading. If you liked this post, please share it with your friends!
Related Posts: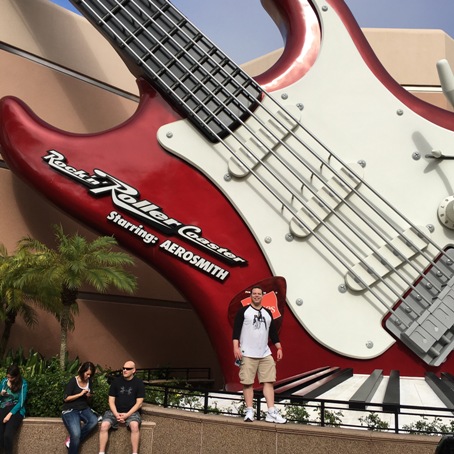 Image Source: Main Image – Anthony Quintano via Flickr; Other images are mine.