A few years ago, I had the chance to meet Eddie Trunk for the second time. Who's Eddie Trunk? Eddie's been waving the flag for hard rock music for over 30 years! He's a radio/TV personality and the former host of That Metal Show (with Jim Florentine and Don Jamison). While a supporter of countless bands and the rock music industry, he's not shy about criticizing those he disagrees with. These include the Rock and Roll Hall of Fame, Sharon Osbourne, and KISS's Eric Singer and Ace Frehley using the face paint likenesses of Peter Criss and Ace Frehley. Because of his outspokenness, they don't look on him as kindly. Although, the Rock Hall did put him on the inductee voting committee.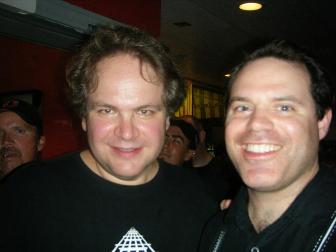 Trunk was on a book signing tour for his second book, Eddie Trunk's Essential Hard Rock and Heavy Metal Volume II. The first time I met him was to promote his first book. That time, instead of a bookstore, he came to what used to be Tim "Ripper" Owen's Taphouse in Akron for a night of comedy and music.
This time around, it was just him and much more laid back. He spoke for 40 minutes giving us the background on writing both of his books. He left open the possibility of a Volume III and his desire to eventually write his autobiography (when he no longer needs to work so he can tell the stories he wants to tell!). His first two books are listings of some of his favorite bands with his personal stories and photos.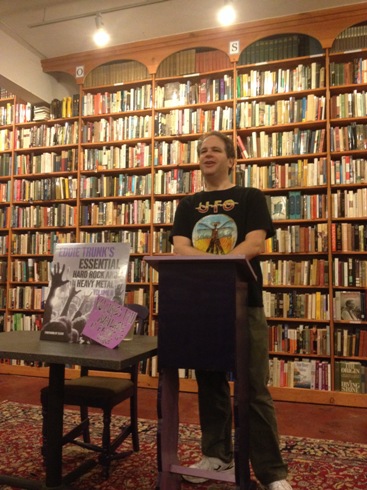 He took questions from us that ran the gamut of the Rock Hall bias against KISS (at the time KISS wasn't inducted yet) to Jon Bon Jovi's ability to transition the band from their success in the '80's to their continued mega-success. Of course, I had to ask him a question. But, I didn't want to ask a "Stump the Trunk" question or a "what happened to 'insert name of band'". So, what better to ask him about than one of my other passions – content marketing and social media. I asked him how bands are using social media and digital tools to help promote their projects. Below is the video of his answer.
During the actual signing, he continued answering questions and telling stories. He was happy that we came out to buy his book and support him. He's a nice guy that has so many stories, that it only makes sense that he begin to release books.
Thanks for reading. If you've got any stories of your favorite bands, authors, artists, etc., please share below!