Like many, I first became aware of Cheap Trick through "I Want You To Want Me" playing on the radio. I remember Robin Zander belting out the intro, "I want YOU to want…ME!" Then, Bun E. Carlos's drumbeat leading to Rick Nielsen blasting the opening guitar licks. Bassist Tom Petersson rounded out the band.
I don't remember how old I was when I first heard it – it must have been early 80's. The intro and the chorus lyrics may be the first bits of classic rock that made a memorable dent on me. I was too young to appreciate the song, but I recognized it when I heard it. As I got older, I could hear the musicianship and how they all worked together. I became a fan of the song. Then, songs like "Dream Police," "Big Eyes" and "Surrender" hooked me. Seeing them live in the '90s cemented it. They're fun, funny and they rock as well as any band out there.
Finally, this year the Rock and Roll Hall of Fame included them in their induction class. They may have worked harder than any other band to get in. They have no plans to slow down any time soon. They've got a brand new album, Bang, Zoom, Crazy… Hello, and will be touring throughout 2016 and beyond. One specific concert has me very excited. They'll be the entertainment for Content Marketing World in Cleveland in September. Cheap Trick is the perfect band for this event as there are five content marketing tips they can teach you.
1. Create Content Consistently
Content needs to be consistent so that you can build your audience and for them to know what to expect from you. Cheap Trick offers short, catchy, guitar-driven songs. They've released 17 albums in 39 years (not counting live and greatest hits albums). That's a level of consistency that you don't get from most bands.
Not only are they often releasing new music, but they also tour relentlessly. This year alone they'll play at least 150 concerts. Few bands, especially those approaching 40 years, play as often. Over the years, they've headlined their own shows, opened for countless bands (Aerosmith, Motley Crue, KISS, Thin Lizzy, AC/DC, Queen, Foo Fighters, and many more), played festivals and corporate events (did I mention they'll be performing at Content Marketing World in Cleveland in September?) and will even play the '80s Cruise in 2017. Nielsen says in an article for Rolling Stone, "I haven't unpacked since Budokan." He's referring to their band-breaking live album, At Budokan.
2. Understand Your Audience
Early on, Cheap Trick understood who their audience was and what they wanted. Petersson told Rolling Stone why they kept their songs short and powerful. "People go to bars to pick up girls and dance. They didn't want to hear Emerson, Lake and Palmer."
As any good content marketer knows you need to hook your audience and hold their attention from the beginning. Petersson expressed in a separate Rolling Stone interview, "And because we were a bar band, we just had the sensibility of getting to the point really, really quickly."
3. Offer Unique Content
To create a buzz and build an audience, you need to have a unique aspect for them. What can you offer that no one else can? Rick Nielsen is known for his guitars. His most famous guitar is his five-neck guitar that he plays in concert.
He changes guitars often (after one or two songs). Fans get to see favorites like his "Gonna Raise Hell" guitar, his Uncle Dick double-neck guitar, or any number of Beatles-inspired or checkerboard guitars.
Also, they may have started the trend of playing entire albums in concert. They played their first four albums in 1998 before other bands adopted the concept years later.
4. Engage Your Audience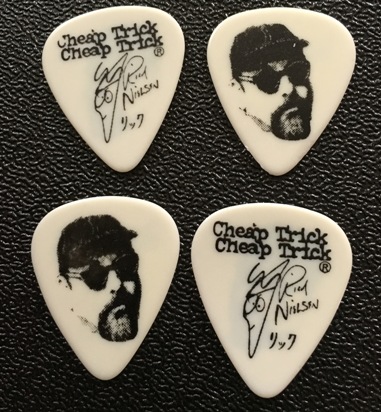 One of the best things about Cheap Trick is that they know how to engage their audience. Early on, they had a group of hardcore fans who would go to all their shows. During a song called "Fan Club," they would call out these fans' names.
One of the fun things about going to rock concerts is catching a guitar pick from the band. It's more than a little plastic souvenir. It offers a connection and tangible experience to make the concert more memorable.
Rick Nielsen takes this to a whole other level. While some bands may throw one or two out from time to time, Nielsen throws out handfuls at a time often, literally hundreds of picks into the crowd at every show! Instead of a select few walking out with a pick, he spreads it out to as many people as he can.
5. Grow Your Influence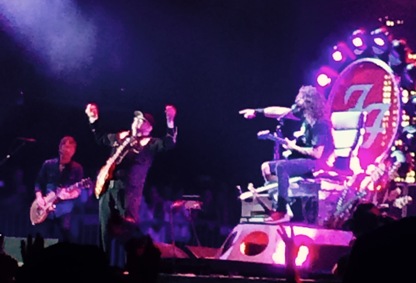 Influencer marketing is the latest buzzword in content marketing. Influencer marketing is utilizing industry leaders to spread your content to a larger audience. One way that Cheap Trick did this was by playing on other bands' albums and making appearances. Rick Nielsen has made appearances on albums by John Lennon, The Yardbirds, Hall and Oates, Alice Cooper, Gene Simmons and Foo Fighters.
On the flip side, Cheap Trick has also influenced many bands. Countless bands from the '70s through today cite Cheap Trick as influencing their music. These include artists as diverse as Dave Grohl, Kurt Cobain, Joey Ramone, Chad Smith, Motley Crue and Aerosmith. They played with Pearl Jam for guitarist Mike McCready's 50th birthday.
The Orange Effect Foundation and Rock Your Speech
Beyond the content marketing points above, there's another reason Cheap Trick is perfect for Content Marketing World. Tom Petersson and Content Marketing Institute (CMI) founder Joe Pulizzi have children affected by autism. They've both started foundations to help families help autistic children learn to communicate.
Joe (with his wife, Pam Kozelka) formed the Orange Effect Foundation to help children receive early speech therapy. This early intervention was helpful for their son. Research shows this therapy improves communication and their quality of life.
Tom Petersson and his wife, Alison, created Rock Your Speech to help kids with speech disorders "find their voices through music." They saw how music motivated their son to vocalize. They incorporated basic expressions, like "I'm hungry" and "what's your name" into rock music. Through repetition, he was able to learn to say these phrases. Through Rock Your Speech, they offer these songs and music videos (that help with reading) to families.
Thanks for reading. If you like this post, please share it.
Related Posts:
Image Source: